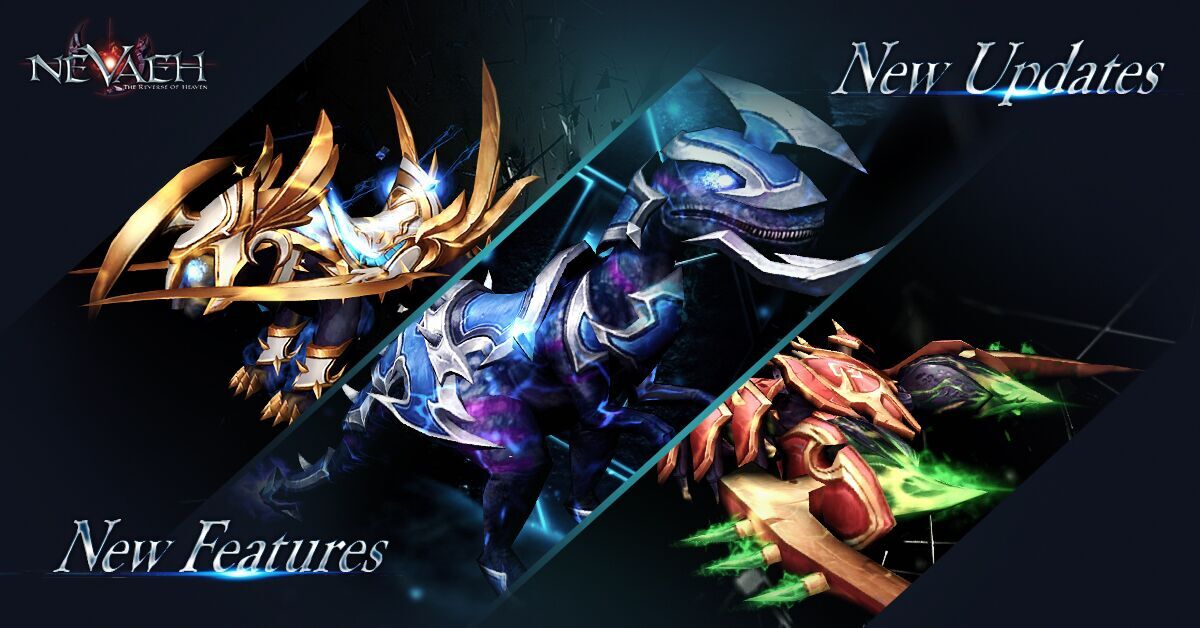 Nevaeh Online will ongoing an major update at 23 August 2017 (10:00 AM). The update approximately will take up to 5 hours, players couldn't be able to login and play the game during the maintenance, we apologize for any inconvenience caused. We would gift every player a update giftpack as a compensation of the update, dont forget to claim the rewards

1. Added Mount System! Temporarily there are 3 mount available, each could be obtain at World Boss Ranking, Daily Attendance and Main Quest.


2. Optimized stage clear's reward, from default material to mercenary
material.


3. Changed level limit for dungeon to Lv15, increased coins generate amount, and increased mercenary's requirement.


4. Remove the participation limit for World Boss, optimized participation rewards and ranking rewards.

5. Counter damage of element ( Such as Fire > Water ) increased from 30% to 100%

6. Player could unlock mercenary skill by star upgrading the mercenary.

7. Increased the amount of coins needed for some system.

8. Optimzed main quest rewards to Wings fragment, Mercenary fragment, Mount fragment, and changed
display location, could be seen at Main Menu tab.

9. Fixed some stage difficulty, reduced difficulty of normal stage and increased difficulty of every last stage of chapter.

10. Players' first mercenary will only unlock 1 skill instead of all skill.

11. Added 3 pop-up promotion tabs : Mercenary promotion, Mount promotion and server launch promotion.

12. Added a portal in Main City to participate the World Boss.

13. Optimized the button location of World Boss, Time Lapse and Maps.

14. Added New NPC : Clown Caravan as server launch promotion NPC.

15. Added a Counter Element Suggestion tab before player starting a stage.

16. Added Counter Element to World Boss.

17. Mercenary Altar would display all kind of Mercenary.

18. Timelapse rewards would be seperated into Accumulated Rewards and Participation Rewards.

19. Added unique set equipment to equipment system, player could collect the full set to get additional stats.

20. Remaked Server Launch Promotion, emphasizing the theme of every promotion, optimized Advertising
Tab and Purchasing Tab.

21. Deity unlock requirement changed from "Level-up Unlock" to "Chapter Cleared Unlock".

22. Added a "Hide" function to Main Menu Tab.

23. Fixed minor bugs issue.

Best Regards,
Nevaeh Development Team.